Project Overview
When launching a product, marketing support materials are critical. They might include a video, 3D animation, brochure, social media content, ads and more. When the list of those materials is long and varied, it's important to have a trusted partner who can shoulder the load and produce a cohesive portfolio of visual assets you can leverage for all of your content. In a recent production, that's exactly what we did to ensure our client's product launch went without a hitch. Read on to see how we worked with our client to produce their launch content in an efficient and cost effective way.
Approach
To achieve success, it was important to accurately illustrate the key message of 'enhanced visibility via CT'. We needed to show how SpaceOAR Vue is visibly different from other products on the market, and the benefits it provides to both patients and physicians.
We started production by identifying all of our clients' needs—these needs included animations for video platforms… large and small formats, static imagery, social media clips and paid advertisements. Within this list there were varying aspect ratios and file formats required. Our production plan landed us in a two phase approach to create a consistent visual identity, and to leverage as many assets as possible across media and reduce the time-intensive need to re-animate or re-render new visuals.
Execution
Phase I
We focused our initial efforts on the highest priority, which included content for their upcoming trade show.  We developed a hero image to support their key campaign message by recreating the CT look with the relevant anatomy and SpaceOAR Vue hydrogel clearly visible. By producing this hero image first, it allowed our client the ability to utilize this asset in social media to promote their attendance at the show, print a large booth graphic, in addition to identifying the key look of the animation. Once the hero image was approved, our team went into animation development for the vertical trade show video wall.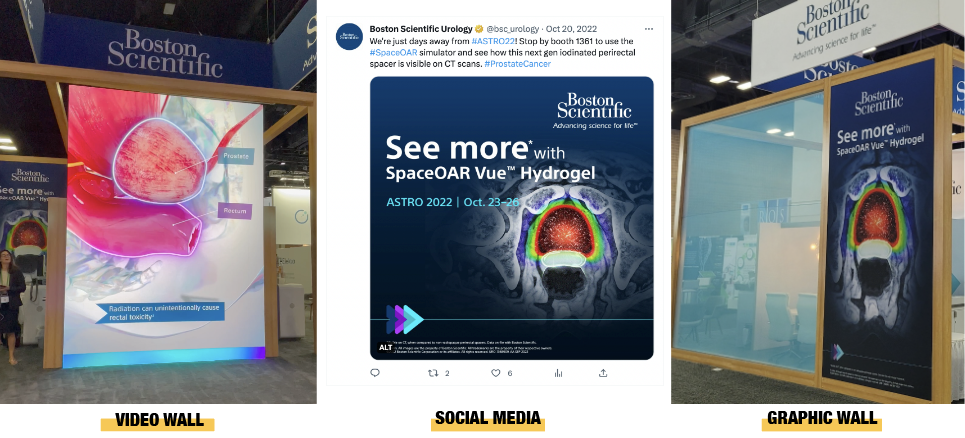 Phase II
With the hero asset and animation approved, our team moved into the next phase of development which consisted of producing over 25 short media clips for social promotion and advertising, all leveraged from the full video. With pre-planning we were able to produce 5 different aspect ratios with little need for re-rendering or re-animating, saving time and money.
Outcomes
Boston Scientific is now equipped with a diverse set of materials to promote their product through numerous platforms. With this project we delivered a trade show booth graphic, 6 website clips, and over 25 social media clips, all with unique aspect ratios! This large-scale production was highly successful because it effectively visualized the product's key competitive advantage across all deliverables and met the client's broad needs and accomplished the vision for an eye-catching campaign.